MILBURN WORKING KELPIE STUD
Michael Johnston
---
GENERAL INFORMATION ON THE STUD
The Milburn Stud is located at Woodstock near Cowra in western NSW. The property carries 6,000 sheep and 200 cattle. It is approx. 3500 acres. It has lovely rolling hills but all excellent grazing land. The Kelpies get plenty of work.
Under the Milburn breeding the Kelpies being produced have been making a good name for themselves and are always in demand. The Stud produces about fifty pups a year and also sells a number of started Kelpies and occasionly a fully broken in dog. A professional approach is taken to the breeding as well as the training. We have secure kennels and offer outside bitches to be mated to our sires. Currently we have Milburn Basil, Bonorong Rex and Bilbul Mac standing at stud. The price for these services is $500. All bitches must be vaccinated and be of good quality working lines.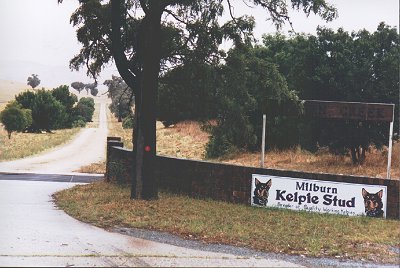 The type of Kelpie the Stud is endeavouring to breed is a dog with good natural ability and brains as well as having the right type of confirmation to travel across tough country well. Stamina is important as is a good temperament. We also prefer early starting dogs.
The Stud has had some outstanding success in the popular Yard Sheepdog Trials. Because of this the Milburn Kelpies became well known in most States of Australia as well as overseas. We have recently sent a number of Kelpies overseas and in fact we have been working in closely with a sheep contracting business based in Holland The man involved has bought four Kelpies from us at an average price of $2500 for the adults. He has also bought two pups and is going to use them in a breeding program. He is extremely pleased with the versatility of these dogs and we are now working on a Kelpie training video at his suggestion.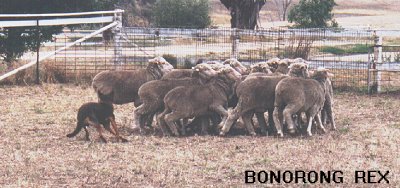 ---
SOME TRIAL RESULTS OF MILBURN KELPIES
EXCLUDING THE MAJOR KELPIES INCLUDED IN THEIR OWN SECTIONS ON THIS WEB PAGE
| | | | | | | |
| --- | --- | --- | --- | --- | --- | --- |
| 1991 | 1st | Sterling | Michael Johnston | Novice | Rydal Show Yard Trial | 155 |
| 1991 | 2nd | Sterling | Michael Johnston | Improver | Rydal Show Yard Trial | 155 |
| 1991 | 5th | Sterling | Michael Johnston | Improver | Monaro Yard Championship | 81/43 |
| 1991 | 4th | Sterling | Michael Johnston | Improver | NSW State Championship | 59/89 |
| 1994 | 2nd | Bruce | Michael Johnston | Open | Central West Champ. Boorowa | 94/87 |
| 1994 | 5th | Bruce | Michael Johnston | Open | NSW Yard Championship Bathurst | 72/71 |
| 1994 | 4th | Nicky | Michael Johnston | Novice | Canowindra Yard Trial | 91/69 |
| 1994 | 3rd | Roy | Michael Johnston | Novice | Woodstock Yard Trial | 79/88 |
| 1994 | 1st | Roy | Michael Johnston | Novice | Canowindra Yard Trial | 95/93 |
| 1995 | 4th | Bruce | Michael Johnston | Open | Southern NSW Yard Championship | 190 |
| 1995 | 3rd | Bruce | Michael Johnston | Open | Canberra Yard Trial | 92/93 |
| 1995 | 2nd | Nicky | Michael Johnston | Novice | Canberra Yard Trial | 79/90 |
| 1995 | 1st | Nicky | Michael Johnston | Improver | Canberra Yard Trial | 97/92 |
| 1995 | 3rd | Roy | Michael Johnston | Novice | Southern NSW Yard Championship | 185 |
| 1995 | 1st | Roy | Michael Johnston | Novice | Canberra Yard Trial | 89/88 |
| 1995 | 4th | Roy | Michael Johnston | Improver | Canberra Yard Trial | 87/88 |
| 1997 | 2nd | Billie | Michael Johnston | Novice | Young Yard Trial | 89/96 |
| 1997 | 1st | Boangong Barney | Michael Johnston | Novice | Nyngan Yard Trial | 91/84 |
| 1997 | 4th | Cotway Cobber | Michael Johnston | Novice | Nyngan Arena | 70/52 |
| 1997 | 1st | Cotway Cobber | Michael Johnston | Encourage | Nyngan Arena Trial | 70 |
| 1997 | 4th | Cotway Cobber | Michael Johnston | Open | West Wyalong Yard Trial | 92/86 |
| 1997 | 1st | Cotway Cobber | Michael Johnston | Novice | Millamolong Utility | 127. 5 |
| 1997 | 2nd | Cotway Cobber | Michael Johnston | Open | Young Yard Trial | 92/86. 5 |
| 1998 | 2nd | Barney | Michael Johnston | Improver | Cowra Yard | 79/87 |
| 1998 | 4th | Billie | Michael Johnston | Novice | Dubbo Show Yard Trial | 173 |
| 1998 | 1st | Billie | Michael Johnston | Novice | Cootamundra Yard Trial | 193 |
| 1998 | 4th | Billie | Michael Johnston | Open | Dubbo Show Yard Trial | 173 |
| 1998 | 2nd | Billie | Michael Johnston | Novice | Southern NSW Yard Champ | 175 |
| 1998 | 4th | Cobber | Michael Johnston | Open | Carcoar Yard Trial | 191 |
| 1998 | 3rd | Cobber | Michael Johnston | Open | Dubbo Show Yard Trial | 177 |
| 1998 | 3rd | Milburn Rocky | G. Kilpatrick | Novice | Collerreina Yard Trial | 101 |
| 1998 | 2nd | Milburn Wally | S. Wilson | Novice | Nyngan Classic Yard | 176 |
| 1998 | 2nd | Rocky | Michael Johnston | Novice | Cootamundra Yard Trial | 187 |
| 1998 | 2nd | Rocky | Michael Johnston | Novice | Carcoar Yard Trial | 177 |
Another excellent Milburn Kelpie used by another handler is Milburn Darkie
He is currently the NSW State Champion for 1999
| | | | | | | |
| --- | --- | --- | --- | --- | --- | --- |
| 1994 | 1st | Milburn Darkie | Jim Luce | Open | Monaro Yard Champ - Crookwell | 79/91 |
| 1995 | 3rd | Milburn Darkie | Jim Luce | Open | Taralga Yard Trial | 97/95 |
| 1997 | 4th | Milburn Darkie | Jim Luce | Open | Henty Yard Championship | 89/89/73 |
| 1997 | 1st | Milburn Darkie | Jim Luce | Open | Elmore Yard Trials | 193 |
| 1997 | 4th | Milburn Darkie | Jim Luce | Open | Australian Yard Championship - Vic | 94. 5/90 |
| 1997 | 1st | Milburn Darkie | Jim Luce | Open | Windellama Yard Trial | 100/97 |
| 1997 | 3rd | Milburn Darkie | Jim Luce | Open | Crookwell Yard Trial | 96/90 |
| 1997 | 3rd | Milburn Darkie | Jim Luce | Open | Murrumbateman Yard Trial | 177 |
| 1997 | 4th | Milburn Darkie | Jim Luce | Open | Young Yard Trial | 90/85. 5 |
| 1998 | Finalist | Milburn Darkie | Jim Luce | Open | Central West Champ. Cowra | 95/58. 5 |
| 1999 | 1st | Milburn Darkie | Jim Luce | Open | NSW State Champion | |
---